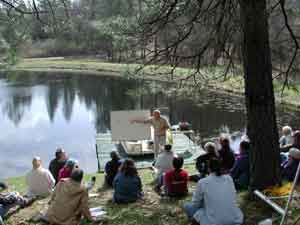 Keith Crabtree was a founding partner of Green Acres 101 and is now retired but still with us as a trusted advisor and Rural Property Professor Emeritus

I have lived in this area for nearly sixty years. My wife VeNae and I have known each other since the 3rd grade, and have been married for 50 years. (I believe it will take) We have two daughters Charlene and Cindy that we are very proud of.
I have dedicated my life to helping take care of our natural resources. The best way that I can make a difference, is to help the landowner understand what their land is capable of and to help them to make good land use decisions.
VeNae has been a surgical nurse at Auburn Sutter Faith Hospital for over 35 years. She decided she wanted to be a nurse at the age of eight. It is because of her that I'm able to pursue my dreams of being a educater and consultant for natural resources. We both agree that we are already successfully retired because we are doing what we love to do, and plan to continue until we are physically and mentally unable to. . . I'm doubtful of the mentality part ;)
Need to reach me right away?
Though I am no longer working actively in the day to day Green Acres 101 classes and consultations, you are welcome to email me at keithcrabtree77@gmail.com or please feel free to call (530) 906-3167
Qualifications:
Private land use consultant for over 30 years

25 years with the USDA Natural Resource Conservation Service

Degree in General Agriculture

Lifetime Instructors Credential for Ag Services for California Community Colleges

Retired Associate Director of the Nevada Country RCD (Resource Conservation District)

Education committee member of the Nevada County Fire Safe Council

Developed ranch and farm plans on tens of thousands of acres

throughout California

Designed thousands of irrigation systems

Have taught pond management, maintenance and development classes and workshops for 20+

years in Nevada, Placer, Sacramento & El Dorado Counties, through NRCS, California Association of Resource Conservation Districts, Agricultural Extension, Irrigation Districts, Real Estate organizations and Home Owner Associations.

Assisted thousands of landowners in hands on site selection, design and management of farm ponds and pastures and in decissions towards purchasing their desired properties.

Have put on agricultural workshops for 20+ years

Over 20 years of teaching college courses in Ranch Development and Management, Soils, Irrigation, Pasture Management, Pond Management and Permaculture too.
Some recent achievements that I am proud of, include;
Certified Instructor in Permaculture Design, 2007

Nevada County Conservationist of the Year Award, 2010

US Congressional Lifetime Achievement Award in Natural Resource Conservation, 2010